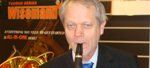 David Glenn is founding member of Rasch¨¦r Saxophone Orchestra, Loerrach;
Allegro Ensemble, London; Rhenus Ensemble, Basle.
Free lance clarinetist and saxophonist. Played with Freiburg Symphonic Orchestra,
Collegium Musicum Basle, Basler Sinfonietta, Symphonieorchester Konstanz, etc.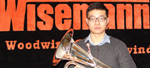 Fan Qing is one of the youngest professional euphonium players today in China. At the age of 26, he has given numerous workshops and concerts throughout China and Europe.
Born in Shanghai, China, Fan Qing began his musical study at 4 with piano and joined the middle school band later as a baritone player when he was 12. After winning a prize of Shanghai Spring Music Festival Brass Competition, he moved to Austria. At that time he was given lessons by numerous great brass players, such as Steven Mead, Dietmar K¨¹blb?ck, Friedrich Loimayr, Brian Bowman, Hakazono Schoichiro etc¡­
From 2005 Fan Qing studied in University Berne of Arts, Switzerland, major euphonium education with Swiss euphonium soloist Thomas R¨¹edi, and Roland Fr?scher. Up on graduation in summer 2009, he continued to study band conducting with Ludwig Wicki and finished master performance of arts degree on 2011.
Fan Qing has played with several finest bands in Europe, such as World Youth Wind Orchestra, Akademischen Bl?serphilharmonie Vienna, Brass band Berner Oberland, Brass Band Rapperswil-Wierezwil and La Landwehr de Fribour etc¡­
As a Soloist, Fan Qing has given concerts in Switzerland, Japan and most important cities in China such as Shanghai, Beijing, Hangzhou, Wuhan...
Currently Fan Qing plays in the China Dunshan Symphonic Wind Orchestra as Co-Principal Euphonium.